Go Back
The World's First Mind Oasis Created by Rituals in Partnership with Muse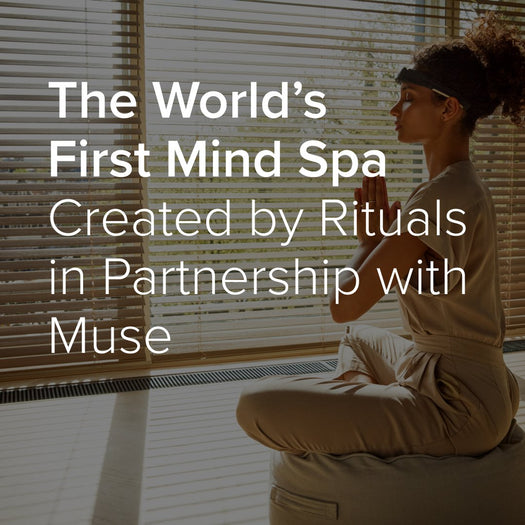 When exploring self-care, the idea of rituals often comes up. But what exactly are rituals and why are they important for our well-being? By definition, rituals are a series of actions that we carry out on a regular basis out of custom, tradition, or even in ceremonial contexts. Even though rituals are routines because they are repetitive behaviors, there is a notable distinction between the two. In the wise words of Esther Perel, renowned Psychotherapist and best-selling author, "rituals are routines elevated by creativity, driven by intention, and imbued with meaning."
Having some downtime and getting ready for bed is part of our daily routines. But when we follow our routines mindfully and with purpose—like choosing to carve out time to meditate or intentionally winding down at night before bed—routines become rituals.
And that's what we're all about at Muse, bringing intention to our wellness rituals. That's why we are proud to announce our partnership with Rituals, who share the same vision. Inspired by the wisdom and ancient traditions of Asian cultures, Rituals is the first brand in the world to combine Home & Body Cosmetics—inviting the transformation of everyday routines into more meaningful moments.
"They are everywhere: at any given moment, of every single day, waiting to be discovered, eager to share the beauty within them. They are the seemingly meaningless moments we all tend to overlook. Rituals unveils these moments and reminds you to experience them with joy." – Rituals, The Power of Rituals
Opening of the Body & Mind Oasis
More recently, they have expanded to providing meaningful in-person experiences. In May, Rituals opened the Body & Mind Oasis, exclusively at their flagship store House of Rituals in Amsterdam. The house offers a sanctuary for personal well-being where the body can relax, the mind can feel calm and the soul can find satisfaction.
 

View this post on Instagram

 

In partnership with Rituals, we have created some unique experiences for the world's very first Mind Oasis This breathtaking space offers a broad scale of the most effective, science-based techniques for mental stress relief and relaxation by combining the wisdom of ancient meditation with the power of science. At the innovative Mind Oasis, Rituals also offers specialized tools that help you track the effect of every experience on offer. Opening soon is the Mind Studio, dedicated to meditating with Muse. The welcoming environment is designed to help you still your mind to find bliss.
Muse Meditation at House of Rituals
If you find yourself in Amsterdam, we book some time at the House of Rituals to enjoy tailored one-of-a-kind Muse meditation experiences. For those new to Muse, we have custom built an introduction to Muse Mind Meditation and biofeedback. The immersive experience includes a visualization of a forest, and voice guidance through a magical forest journey where the rain is the sound of your mind.
Anchoring a gathering space at the Mind Oisis is a campfire sculpture designed by Woven Studio that celebrates the ritual of coming together and building community. Not only does the piece glitter and move like actual fire, but it also responds to the presence of those sitting around it. Muse co-founder, Chris Aimone, has created a guided meditation that accompanies the experience, and at its core, it's about the power of connection.
"The right environments allow us to tap into the deepest part of our inner selves and imagination," explains Chris. "Being around a campfire does just that, it opens you up to receive without judgment. And to be able to do that in community, tuning into each other, is a beautiful thing because the spirit of what we do together amplifies what we're capable of on our own."
Rituals on the Muse App
Want to get a taste of the Rituals experience? Several meditation experiences, created in partnership with Rituals, are now available on the Muse app!
Muse S users now have access to a Sleep Journey called 'Inner Peace Ritual', developed by Chris and mindfulness expert Patricia Karpas, Muse Head of Content. This voyage takes you to an oasis where the waterfall reflects your mind, slowly becoming more subtle as you drift off to sleep. A first for Muse, this experience features a soothing backdrop of binaural beats. The beats provide a vibrational and therapeutic drone that holds your delta brainwave, allowing for your brain activity to slow down.
Two new guided meditations led by Patricia are now available. 'A Joy Ritual' in the Joy Collection dives into how one can savor what's good within our rituals and routines. In the Self-Care Collection, 'Inner Refuge Ritual' will guide you to visualize and immerse yourself in your happy place.
By helping you tune into your senses, Muse elevates your practice by creating an environment, a context for your rituals. As explained by Esther Perel, rituals are "about delineating between space and time and creating a grounding rhythm, a predictable structure with a reassuring, calming, and stabilizing effect." The combination of guidance and soundscapes create a temple for your meditation and sleep practice. Muse biofeedback allows you to stay in a state of curiosity where you can appreciate what's going on in your mind and body with openness and ease. Find out how to turn routine into rituals with Muse.