The World's Leading EEG Technology
Muse's EEG technology is research-backed, accurate and trusted by leading experts and institutions in the field of neuroscience and well-being.
SAFE, TRUSTED & CERTIFIED
Used by Neuroscience Researchers Around the World
EEG (electroencephalogram) technology has been a valuable tool for studying brain function and cognitive processes, and has been used to help diagnose and monitor neurological conditions and disorders. Yet, accessing this tool has often required a visit to a doctor's office or research institution.

With Muse's brain sensing headbands, you can now harness the power of EEG technology from the comfort of your own home. The device features dry sensor technology and advanced digital signal processing that makes it easier than ever to track your brain activity and gain insights into your overall mental states.
7 Advanced Sensors That Track Your Brain & Body
Muse passively measures brain signals, much like a heart rate monitor senses your heartbeat, and serves as a research-grade brain fitness tool.

Its 7 finely calibrated EEG sensors - 2 on the forehead, 2 behind the ears, and 3 reference sensors - detect and measure the activity of your brain. Its PPG sensor measures your heart rate, while an accelerometer and gyroscope measure your breath rhythm and body movement.
Muse has been tested and certified in accordance with Canadian, US, and European regulatory standards (FCC, UL, CE).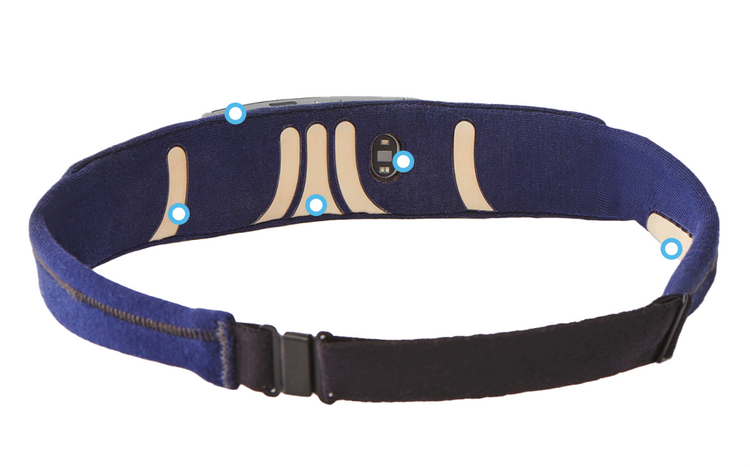 Measurable & Accurate Results
Muse has been tested and validated against EEG systems that are exponentially more expensive, and it's used by neuroscientists around the world in real-world neuroscience research inside and outside the lab.
Muse is a next-generation, state of the art EEG system that uses advanced algorithms to train beginner and intermediate meditators at controlling their focus & offers non-invasive sleep interventions that work.
A Sleep Lab at Home
Sleep experts know the gold standard of sleep tracking is through polysomnography found in traditional sleep clinics. These tests use electrodes that measure brain waves, eye movements, muscle activity, heart rate, breathing, and oxygen levels.

We used sleep lab data to benchmark the accuracy of our brain tracking algorithms to give you precision and insight, all from the comfort of your own home.

Plus, the Muse app provides easy-to-understand graphs, helping you become the expert in interpreting your results.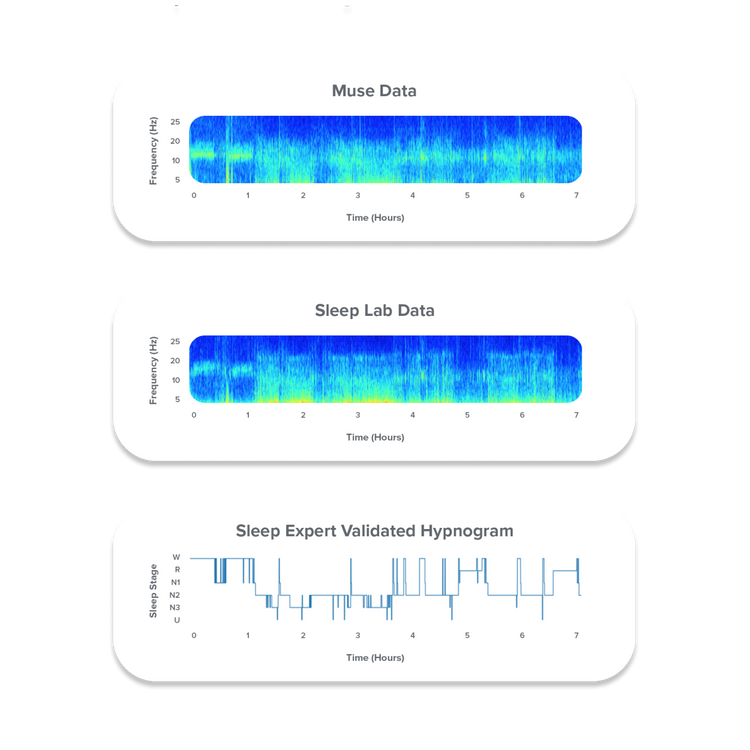 Real Users, Real Results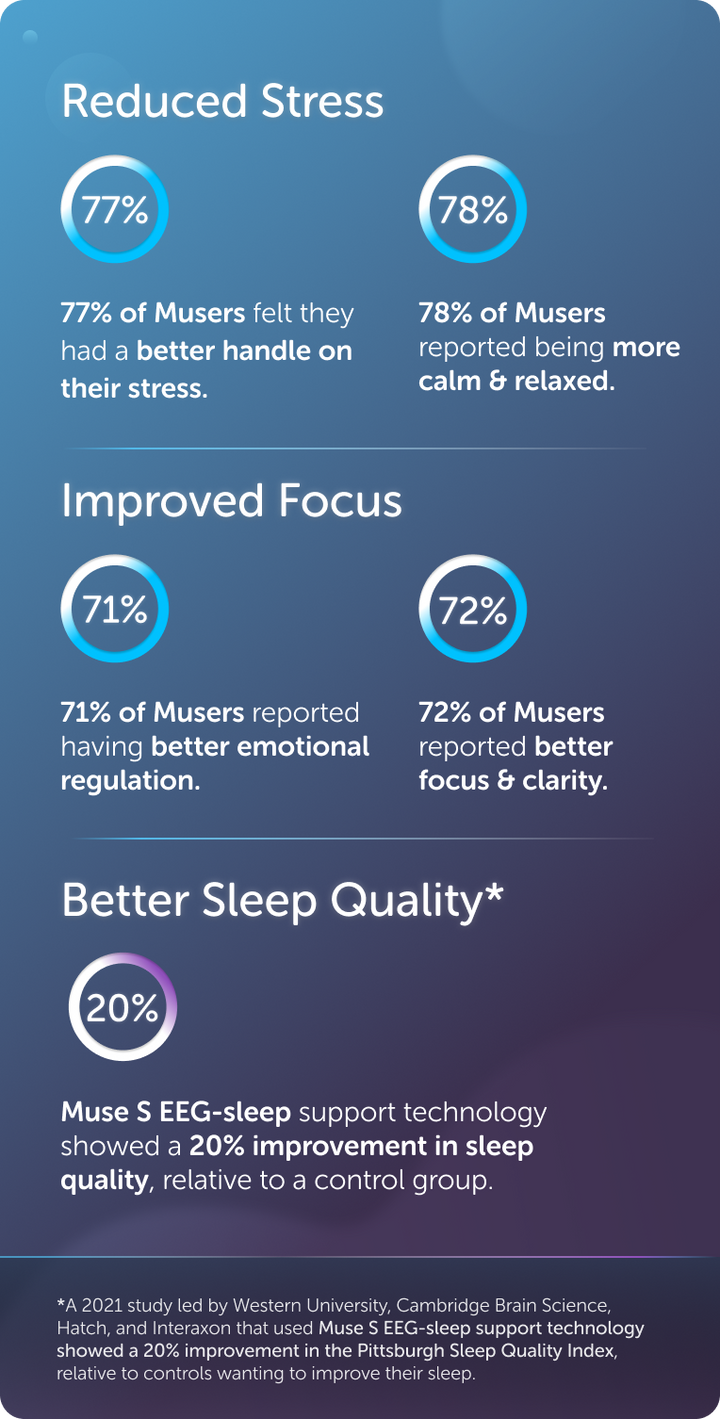 Your Ultimate Sleep Companion
Equipped with advanced sensors and technology, Muse tracks your sleep stages, deep sleep intensity, and positions providing you with a comprehensive understanding of your sleep patterns.

With responsive real-time sleep experiences, Muse cues your brain to sleep and helps you fall back asleep if you wake up during the night.

You'll have access to personalized sleep reports that show you how you're improving over time, giving you the tools you need to build strong sleep habits for the rest of your life.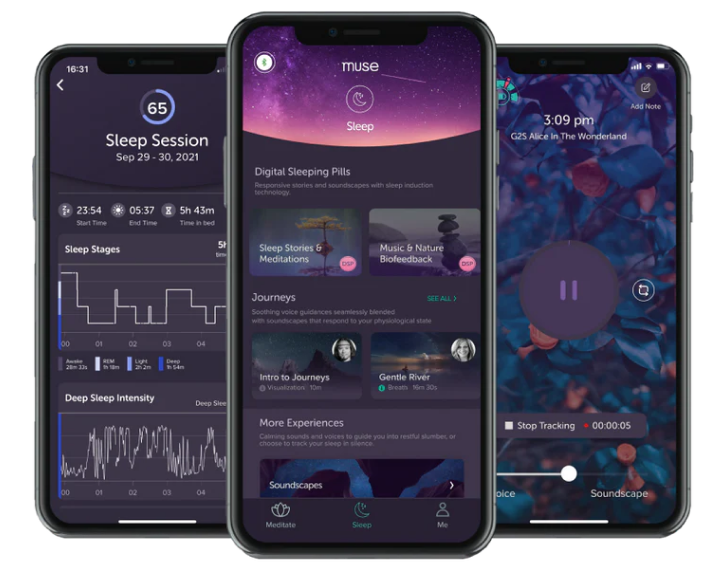 Sample Our Top Rated Sleep Experiences

Sleep Journey
Guided stories & soothing soundscapes designed to lull you into a restful sleep.

Sleep Guidance
Guided bedtime stories to help you wind-down before bed.

Sleep Soundscape
Melodic soundscapes composed to respond to your brain & body.

Digital Sleeping Pills
Responsive stories that use smart-fade technology to help you fall & stay asleep.
Featured Research with Muse