Go Back
Meet Shawn Moore, Muse's new Community Engagement Specialist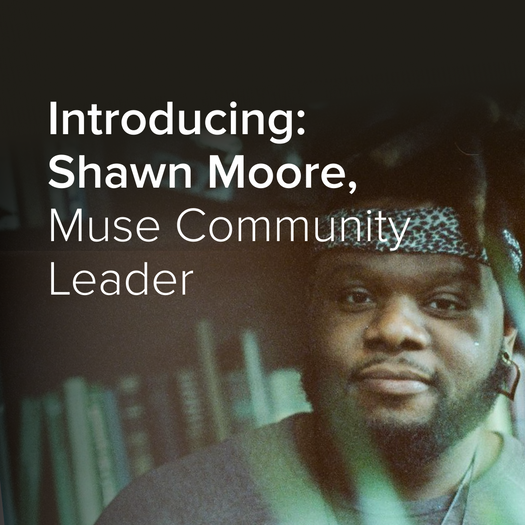 Muse is excited to announce that Shawn Moore has joined the team as a Community Engagement Specialist. In this role, he will be a resource for our community to continue to deepen their practice and build a long-lasting sustainable meditation habit.
Meditation has been a staple in his life for over 16 years. Shawn stumbled upon meditation in high school after reading Herman Hesse's book Siddartha. After some self-exploration, he immediately noticed how meditation strengthened his connection to clarity and creativity through focused attention, breath awareness, and a more embodied sense of calm. Meditation has helped him navigate his passions, purpose, career, and personal relationships with more gentleness, precision, and stability. He continued to grow his practice over the years and eventually began teaching meditation in order to help others tap into that same experience that drew him in. He looks forward to bringing this same passion and reverence for meditation to the Muse community.
Shawn's Inspiration
Shawn enjoys exploring a wide variety of meditation techniques and practices. He has trained in and facilitated several styles, including yogic meditation, tantric meditation, mindfulness meditation, and deep relaxation practices. Shawn's lens on the practice is rooted firmly in the Buddhist tradition. He is inspired by practitioners like Tracee Stanley, David Nichtern, Pema Chodron, and Rolf Gates, who view the practice of meditation as a practice to become better acquainted with ourselves. Shawn's favorite meditation practice is Metta or lovingkindness meditation because he believes once our own cup is filled with lovingkindness and compassion, we are better positioned to pour back into the world, from a wellspring of peace, joy, and equanimity.
You can check out his meditations in the Self-Care, Creativity, and Performance Collections.
A few of his favorite practices within the Muse app are:
Dora Kamau's Self Holding for Healing (Self-Care)
Gullu Singh's Radiating Metta (Compassion)
Faith Hunter's Ocean Peace (Stress)
 

View this post on Instagram

 
Supporting You on Your Muse Journey
As you continue to explore and integrate your Muse device into your daily routine with the real-time feedback and data it provides, think of Shawn as a partner in the experience. Whether meditation is a practice to help you balance the stress of everyday life, a means to optimize your peak performance, or a tool to reconnect with yourself on a daily basis, the new community initiatives developed through Shawn will support you.
You can expect engaging content and campaigns, including live Q&A sessions, live meditation practices, interviews with meditation practitioners, opportunities to highlight the amazing achievements of our community members, and much more. In addition, Muse's community engagement opportunities will be reinforcing our channels to listen to your feedback to improve your experience.
As we continue to fortify and strengthen our community of muse meditators around the world, Shawn is excited to join you on your journey.