Go Back
Featured Muse Meditation Teacher: Koshin Paley Ellison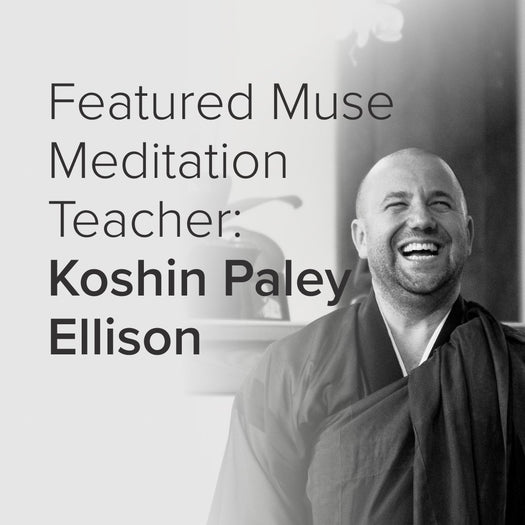 Sensei Koshin Paley Ellison, MFA, LMSW, DMIN, is an author, Zen teacher, Jungian psychotherapist, and Certified Chaplaincy Educator. He is the author of Wholehearted: Slow Down, Help Out, Wake Up and an editor of Awake at the Bedside: Contemplative Teachings on Palliative and End of Life Care. Koshin is a Co-Founder & Guiding Teacher of the New York Zen Center for Contemplative Care. Koshin's public programs have introduced thousands to the practices of mindfulness and compassionate care. His groundbreaking work has been featured in PBS Religion and Ethics Newsweekly, and in numerous print publications such as the New York Times and Los Angeles Times.
Q & A with Koshin Paley Ellison
How did you first discover meditation? Who or what inspired you to meditate?
My first experience with meditation was at my local karate school in the basement of a strip mall, underneath the drugstore. It was a really grungy, dank space and I had gone there to learn karate (I thought) but really I was searching for a teacher. I had seen these movies, The Karate Kid and Star Wars, and I was looking for a true teacher. And what I found was this wonderful teacher named Sensei White, who was a Zen kind of guy and was interested in how we could be still. We used to meditate before movement. He used to always just walk around us as we were sitting and say, "You'll never learn how to be free if you're not still with your pain". He then would sit back down and sit with us. We'd feel this excruciating pain while sitting down for these long periods of time but we were really learning how to not move away from what you fear. And what came up when we would sit is so much fear and so much feeling of agony. It's almost like we felt like we would die if we kept sitting. And it turned out that the fears didn't come true. Nor did the agony last. And I really began to see how this was the creation of my own mind. And it was for me the beginning of freedom and the beginning of what it really means for me to meditate.
What inspired you to continue meditating?
These pictures and these images from these movies, Mr. Miyagi and Obi-Wan Kenobi inspired me to meditate and to learn discipline. Previously, however, I had this encounter with another photograph: this monk on a street in Tokyo who was very, very still, and he had this amiga hat on. All the other people in the photograph were blurred. But there was just something about him. He had this slight smile showing he was totally content. Underneath the photograph, it said Zen Buddhist monk in Tokyo, and I remember thinking, I want to be like that. Later on, when I was practicing with Sensei White, I felt like I was actually learning the superpower of learning how to be really, really still. That continues to inspire me today.
What's a valuable lesson you uncovered during your meditation journey?
Possibly the most valuable lesson I've learned is what I learned in that karate school, which is that in order to be free, you have to learn how to be still with your pain. I feel that is still true. I feel this is true liberation. I think about my students who are all dealing with different psychological, spiritual, physical challenges. This stillness and continual return to stillness, while maintaining the softness of the breath in the belly, continues to be what inspires me. It is what I feel is deeply useful.
What's your favorite meditation technique and why?
My favorite meditation technique is called zazen. Zazen means seated zen; learning how to be in the softness of my breath and my hara (this amazing space two inches below our belly button), feeling the ground with my legs, and my sit bones, and feeling the curve of my lower back, and the opening of my shoulders, and the uprightness of my spine. This amazing posture and this practice of zazen is about how to be completely upright. We could also say how to be ethical, grounded, and soft. This is also what Kosho Uchiyama talks about when referring to 'living by vow'; it's about pouring our values into what we're doing with our lives, and it's rooted in our bodies and in the softness of our breath. Then we can widen out and actually do and participate in the world in a loving and compassionate way.
What's a simple mindfulness tip anyone can benefit from?
To me, one of the greatest things that we can learn to do is to pay attention. One of my greatest teachings comes from what I learned in nursery school: stop, look and listen. To truly listen to the world is an amazing thing. So whether you're in a coffee shop or biking or even in the middle of an argument with a co-worker, we can learn how to stop, reflect and listen. Before we act, we can come into this deep stillness. It's a place of possibility, liveliness and it makes life much more fun!
Find Koshin in the Muse App!
Koshin is a Zen Buddhist teacher based in NYC. He introduces us to a range of Zen-inspired meditations with his kind and captivating style. Find Koshin in the Grief, Pain, Long Breaks & Zen Collections on Muse!
Listen to Koshin on the Untangle Podcast:
Koshin Paley Ellison – Being More Emotionally Vulnerable and Intimate to Build Stronger Connections
Koshin Paley Ellison – Living Mindfully in Times of Upheaval
Koshin and Chodo – Zen Monks Tell All
Follow Koshin on Social or Visit his Website:
Website: https://zencare.org/
Instagram: https://www.instagram.com/koshinpaleyellison
Facebook: https://www.facebook.com/koshinpaley
Twitter: https://twitter.com/koshinpaley