Go Back
5 Tips For A Mindful Summer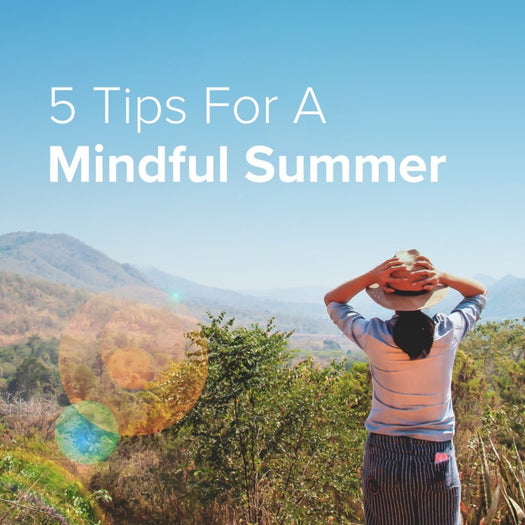 It's that time again… as much as we'd like to ignore it, heading into August reminds us that summer will soon come to an end. The good news? Summer's not over yet! To help you squeeze every last drop out of the warm weather, here are our 5 tips for a more mindful summer.
1. Create a Summer Bucket List
Creating a bucket list, or a list of things you've been wanting to do for a while can be a great way to add more purpose to your summer and keep you excited for upcoming activities!
We recommend picking a variety of 8-10 things that are achievable and a mix of outdoor and indoor activities (i.e. win the lottery may not make the cut). A few items you might want to add to your list could be "try windsurfing" or "take a cooking class".
If you find summer days are just passing you by as you scroll through your social media feed on your couch, the bucket list life might be for you.
2. Drink More Water
Between the hot summer heat and all of the fun summer events you attend, it can be easy to forget about one of the most important things – your health & staying hydrated!
We recommend carrying a reusable water bottle wherever you go. This will not only remind you to drink water throughout the day, but also help to get you in the habit of drinking often (and help reduce environmental waste).
3. Be Active In Nature
Spending time outdoors can not only help improve your wellbeing but also put you in a great mood. In a study conducted at Glasgow University, researchers found that regular exercise outdoors helped to improve stress levels, mood, and energy levels.
We recommend setting aside a specific time each day to be outdoors. Whether you choose gardening, biking, or simply taking a walk around the block, try to make your outdoor time a priority.
4. Stop To Smell The Flowers – Literally
Have you ever walked into a room and then forgot what you went in there for? Or missed an exit on the highway because you were so deep in thought?
It can be easy to forget to enjoy the little things. We recommend spending time trying to be completely present, pausing to enjoy small moments of delight like smelling a few fresh flowers on your walk to work. Whether that means listening to the birds' chirp, or having a picnic with a loved one and savouring each and every bite.
Allow yourself to soak in each moment – take a moment to relish the feeling of the sun warming your skin and a gentle summer breeze around you.
5. Practice Meditation – Outdoors
When you think "mindfulness", you most likely associate the word with "meditation".
Meditation can be a great way to pull yourself into the present moment, and having a consistent meditation practice can help you learn how to foster a greater sense of gratitude, make more out of every moment, and foster deeper connections to yourself and others.
We've launched a brand new "Outdoors Collection" of Guided Meditations that are perfect for summer and were designed to help you be more present while you're out in nature.
Meditating outdoors can quiet your mind, ease your body, and activate your senses. The guided meditations in the Outdoor Collection utilize breath, visualization and inspiration techniques to help you let go of day-to-day worries and feel more grounded and connected to your surroundings. Whether you're in the woods, at the beach, or just at the park, these meditations will improve your peace of mind and compliment your indoor meditation practice.
Whether you choose one of our tips or decide to take on all five, take advantage of the rest of your summer and make it last.