Go Back
NEW: Meditation Studio Releases Apple Watch App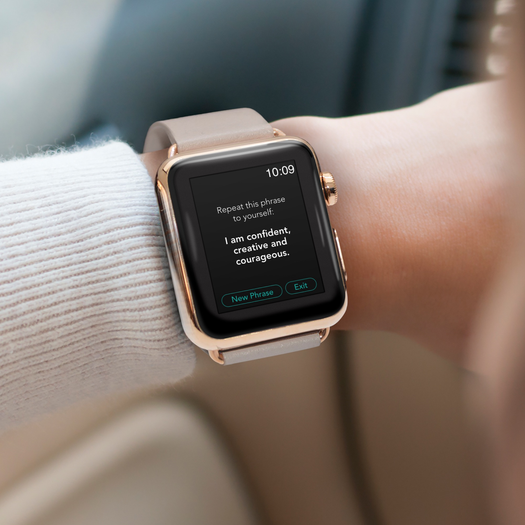 New Meditation Studio Apple Watch App Makes It Even Easier to Listen to a Guided Meditation On-The-Go.
Meditation Studio by Muse, a 5-star rated meditation app with more than 700 guided meditations and 6 courses, has released a new Apple Watch app, now available for download on the App Store.

Notable New Features
The new Meditation Studio Apple Watch app allows iOS app users to launch a recently played meditation right from their watchface, making it easier and more convenient than ever to listen to a guided meditation anywhere, anytime without interacting with a phone screen.
The app also includes an exciting new feature to help users adopt a more positive mindset—the ability to get a randomized affirmation by tapping on their watchface.
Positive affirmations are simple, powerful statements that can be repeated throughout the day to increase feelings of confidence, achievement and self-love.
"Studies have shown that positive affirmations can increase our self-worth and help create a more expansive view of self," said Cyd Crouse, co-founder of Meditation Studio and CMO of Interaxon Inc. "The positive affirmations feature on our new Meditation Studio Apple Watch app is a quick, fun and powerful way to get a little pick-me-up—right from your wrist."
Meditation Studio's new Apple Watch app also includes remote control functionality, including play, pause, fast forward, rewind and volume controls. This new app is part of Meditation Studio's continued commitment to connect people to meditation in a modern and approachable way.
Featured by Apple as one of the "10 Best Apps of the Year," Meditation Studio solves the big and little everyday challenges with its original and inspiring guided meditations, motivating courses and more than 60 hand-selected teachers.
The careful curation of content and experts—from PhD psychologists and sleep doctors to monks and mindfulness experts—sets Meditation Studio apart from other apps. The collections are grouped around common goals and challenges, such as stress, relationships, confidence, focus, sleep, and more.
There are also collections developed just for college students, veterans, sports, and even getting your kids to sleep.
The Meditation Studio Apple Watch app is now available in the App Store. Try Meditation Studio's free 10-day Starter Series and Discover Collection or purchase premium meditations and app features for $49.99/year or $7.99/month.
About Muse® and Meditation Studio: At Muse®, our team of neuroscientists, meditation teachers, and engineers develop state-of-the-art experiences using research grade EEG technology. Our goal is to help individuals build a rewarding meditation practice and live healthier, happier, more connected lives. Our products include Muse® and Muse® 2, brain sensing headbands that are designed to help users meditate by providing real-time audio and visual feedback on their meditative state through the Muse® companion app.
With the acquisition of Meditation Studio by Muse® in July 2018, Meditation Studio's original guided meditations and courses are now featured on the Muse® app as well as the Meditation Studio app. With more than 60 hand-selected meditation experts, Meditation Studio offers a library of original and exclusive guided meditations taught by mindfulness experts, psychologists, doctors, Zen monks, and yoga instructors who specialize in a wide range of traditions and meditation styles. Courses are designed to keep users focused on a particular goal such as uncovering happiness, improving sleep, changing habits and more.