Go Back
How Muse & Canada's Digital Technology Supercluster Are Supporting Employee Health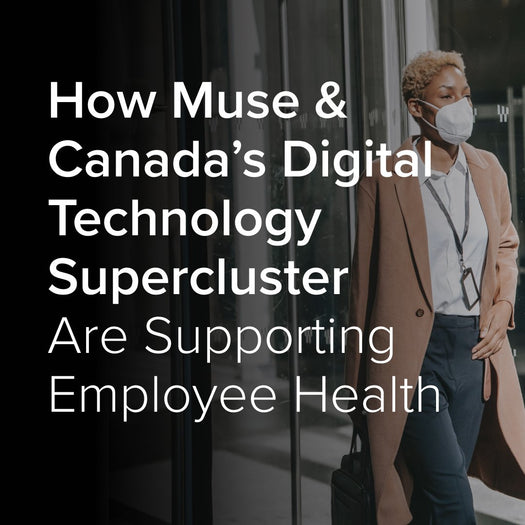 One in five adults experiences mental illness, according to the National Alliance on Mental Illness (NAMI). Among women, BIPOC, and LGBTQ+ communities, this rate is even higher. But what might be even more concerning is that, according to NAMI, more than half never receive treatment and those that do often wait years to get help. And these 2019 stats aren't factoring in the mental health toll of the COVID-19 pandemic. Here's how mental health problems are affecting companies and how investment from Canada's Digital Technology Supercluster is working to help employee health and make workplaces happier.
Learn more about Muse's Corporate Wellness Programs >
 
Mental Health Problems are Hurting the Bottom Line
With mental illness on the rise around the globe and the fact that most of us spend about one-third of our lives at work, companies are feeling the pressure to support and solve the mental health challenges many of their employees are facing. These include everything from anxiety disorders and depression to ADHD and Bipolar disorder. And as the COVID-19 pandemic keeps more of us working from home—about 56% of United States workers and 40% of Canadian workers—there's been a surge in demand for digital health technologies, from sleep tracking wearables to text-based therapy.
If companies don't, it could hurt their bottom line. Studies show that mental health issues affect employers directly through higher rates of absenteeism and human error, a negative impact on productivity and profits, and an increase in costs to deal with these issues. And this is happening not just in the overworked US but around the world.
Data shows that in the Netherlands, 58% of work-related disabilities are related to mental health. While in the UK, it's estimated that 30-40% of the sickness absence can be attributed to some form of mental health.
Fortunately, mental health is increasingly being seen as a key part of overall employee health. What used to be more of a taboo topic is now being more openly talked about and addressed in human resource departments and company-wide meetings. Employers are adding resources like yoga and meditation classes as well as access to therapy to employee benefits.
Investment in mental health is happening both inside company walls as well as in research labs and brain health institutes around the world. Recently, thanks to an investment by Canada's Digital Technology Supercluster, Interaxon, the makers of Muse, and three other leading Canadian firms have partnered to help employees feel happier and healthier at work.
How Muse and the Workplace Brain Health Platform Are Tackling Employee Health

Interaxon is leading an initiative called the Workplace Brain Health Platform, which is a collaboration with Cambridge Brain Sciences, engineering and professional services firm Hatch, and The Brain and Mind Institute at Western University of Canada. A total of $2 million is being invested into the platform to develop a brain health data repository and meaningful interventions related to positive lifestyle factors like sleep and meditation. The platform will help employers and employees determine the impact of cognitive function—everything from thinking and learning to problem-solving and decision-making—on the overall health and safety of workers in fields like healthcare, manufacturing, and transportation.
How will this work? The repository data, which will be anonymized and aggregated, will be used toward a variety of machine learning applications to improve well-being as well as develop new health and wellness products that support and enhance cognitive performance.
The first phase of the project involves a 6-week pilot study with employees of Hatch. The pilot will test cognition and sleep quality as well as participants' levels of stress, anxiety, depression, and overall quality of life. Participants will have their biometrics measured (brain, heart, and other physiological data), complete individual surveys, use tools such as the EEG-powered Muse S, receive coaching, as well as undergo cognitive and behavioral assessments. This will involve completing Muse interventions to build the skill of meditation and improve sleep, and track associated improvements in cognition and workplace health. Companies like Hatch can use these insights to help understand the current state of their employees' workplace health and then implement appropriate strategies and programs for improving it.
As more companies and industries begin to look at how to minimize risk to the health and safety of their employees and address stress and mental health challenges, EEG technologies like Muse S can be key. By giving insight into real-time cognition and sleep quality, the tools, interventions, and data can both help employees keep their stress levels in check, as well as help employers, create work environments that foster greater well-being and happiness.