Go Back
Muse Elite Ambassadors: How Are They Impacting Other People?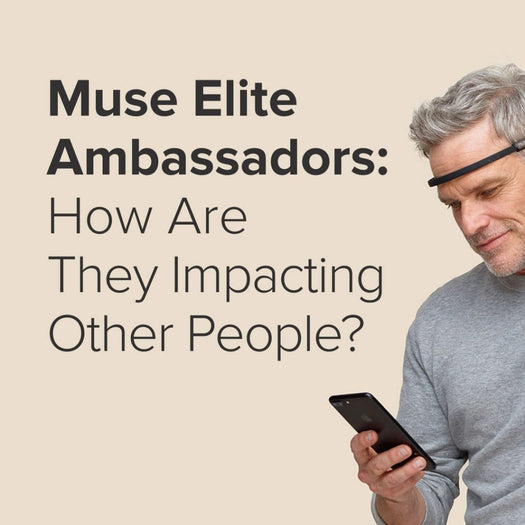 At Muse, we are happy to support and be supported by ambassadors! Our network of ambassadors use meditation to improve their lives daily and share the benefits of meditation with their network. Get to know our Elite Ambassadors and learn how a steady meditation practice is helping with their mission in life.
Ben Angel
Bestselling author, Ben Angel, takes his audience on a journey into the entrepreneurial mind. He uncovers why we do what we do through his powerful short films, educational video's and books. Angel inspires us to unleash your ideas, your potential and your "self" on the world with the courage and conviction that you'll succeed.
He uses a 13-week challenge, guaranteed to make 2020 your best year yet and continues his mission of teaching people how to become unstoppable.
"You can imagine on a daily basis, when you're having a hectic day, the ability to bring your brain back into the zone, to calm yourself down, puts you in a place in which you can make educated decisions not based on emotional hyperactivity or things being thrown at us."
Dr. Jason & Rachel Bradley
Most people could benefit from a healthier lifestyle. Jason & Rachel's health programs are perfect for people who are interested in anti-aging medicine, optimal health, and developing beneficial eating and exercise habits.
That's why they founded EPIC Functional Medicine Center. When it comes to your health, they want to see the whole picture.
The centre offers testing for male and female hormone levels, gastrointestinal profiles, food sensitivities, heavy metal toxicities, neurotransmitter function, and more. In other words, the laboratory testing helps track your progress and assure that you are on the path to optimal health.
"To me meditation is a feeling, a feeling of presence, awareness, and calm that I didn't really know existed until I started using the Muse meditation device. My life may be extremely busy as CEO of an expanding functional medicine centre. That said, I always find time for meditation with my Muse. It's essential to my health, happiness, and quite frankly – sanity!" – Rachel
Reza Rezz & Victoria Larson
Reza and Victoria's mission is to empower the world through a movement of Mindset Mastery. They do this by consulting other therapists, doctors and professional change agents to simplify and amplify their practice. Reza and Victoria's teachings encourage their clients to rewire the model of their practice and their mindset so they can serve their own clients at a much higher level.
Each of their programs and courses are designed to help professional change agents streamline the transformation process so they can have a bigger impact, while working less and making more. They incorporate mindset training not only with their clients, but also with their clients' clients, every single day.
"We love the real time auditory feedback it provides! We not only use it ourselves, we recommend them to our clients as well. It's an amazing tool!"
We are grateful to have partnered up with people who are working daily to make a positive change in the world and spread the joy of meditation alongside Muse.
If you'd like to support Muse and want to share the gift of meditation with your network, you can reach out to our partnerships team HERE.