Go Back
Featured Muse Meditation Teacher: Palma Michel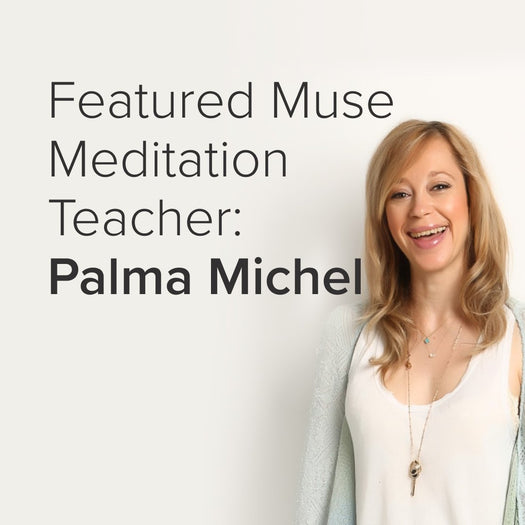 As a mindful leadership advisor & transformative coach, Palma Michel works at the intersection of high performance, peak wellbeing, and impact. Her first book The Authority Guide To Mindful Leadership was published in April 2017 and offers techniques for managing yourself, others and effect positive change. As the host of The Explorer's Mind Podcast, she interviews people who have gone into uncharted grounds and followed impossible dreams. She is also trained in a variety of cutting-edge energy healing techniques. Her meditations are featured on Muse and Meditation Studio by Muse. Listen below to learn more about Palma and discover her experience with meditation in our Q&A.
Q & A with Palma Michel
Who or what inspired you to meditate?
My very first meditation experience was at the end of a yoga class when I was 18 and like many people, I fell asleep during that first meditation. I also remember that I felt more awake and refreshed than I ever did before and knew intuitively that meditation would become something very important for me at a later stage in life. I did not meditate for a number of years but studied a lot of Buddhist texts and read books like The Power Of Now which were transformative. When I moved to Hong Kong many years later as a board-level headhunter, my boss at the time exuded this calm presence no matter what, she had an aura of kindness and charisma, that I had never come across before. She had a regular meditation practice and this inspired me to intensify my yoga practice and start meditating on a regular basis.
 

View this post on Instagram

 
How has mindfulness changed your life in unexpected ways?
It gave me more than I could have ever bargained for and changed everything. When I eventually extended my practice from 15 minutes to 1 hour, during the first 1-hour sit, I had this feeling that turning my attention inwards was coming home and that the safest, calmest most peaceful place was inside of me. This feeling never left me and I became more curious about the silence in the background and eventually, this silent background became my foreground experience at all times, with thoughts fading into the backdrop. It changed how I experience who I am and the world around me. I discovered that I was always and already whole and so is everyone else, no matter how broken or unhappy they might feel. As a result, my life has also become incredibly joyful, loving, quite effortless and I experience an enormous amount of synchronicity.
What's your favorite meditation technique and why?
My favorite technique is to rest back into the stillness, the beingness, the awareness itself. If this is not yet accessible to you, one way to get a glimpse is to sense into the space around you and above you and sense into space where your face is and investigate if you can actually sense or feel any boundaries or you are actually experiencing a vast open and timeless space instead.
Find Palma in the Muse App!
Palma's kind and inspiring words lead us to become more compassionate, mindful, and present in our everyday lives. Find her in the Confidence, Creativity, Motivation, and Resilience Collections on Muse.
Follow Palma on Social
To connect with Palma on any coaching or speaking opportunities email her at palma@palmamichel.com or visit her website at www.palmamichel.com
Instagram: @palmamichel_
Twitter: @Herenowalltime
Linkedin: palma michel
Facebook: @palmamichelmindfulness