Go Back
Celebrating International Women's Day at Muse #BreakTheBias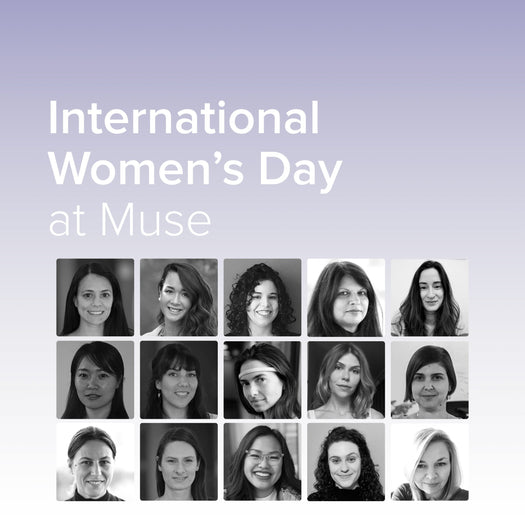 There is a gender gap in the modern workforce. And we see it every day in everything from politics to pay. Even as women leaders in healthcare, education, and tech, they are still outnumbered, outranked, and outearned by their male counterparts (1). So today, March 8th, for International Women's Day (IWD), we're joining our global community in working for gender parity and income equality. Here's why this is specifically important in tech, how we're celebrating IWD at Muse, and what women of Muse have to say about being in tech.
Women In Tech and Gender Diversity at Muse
For International Women's Day this year, the theme is Break the Bias.
"Whether deliberate or unconscious, bias makes it difficult for women to move ahead. Knowing that bias exists isn't enough, action is needed to level the playing field."
At Muse, we're participating by celebrating women's achievements, raising awareness about equality, challenging biases, and forging positive visibility of women.
Our mission? To help people live happier, healthier, more connected lives through mindful practices and human-centered technology. We work to do this for each member of our Muse community as well as each member of our company team. As part of the larger, predominantly male world of tech, we believe who we choose to hire can make a difference. Not only do we strive for gender equality, but we also work to keep inclusion, compassion, and integrity at the core of what we do.
"The story of women's struggle for equality belongs to no single feminist, nor to any one organization, but to the collective efforts of all who care about human rights." – Gloria Steinem
How Muse is #BreakingTheBias
25% of the Canadian tech workforce is women.
Since we founded Muse, we've been working to change gender differences in tech. Of our 45 employees, women make up 49% of our overall staff and 56% of our senior staff.
Canadian women's average hourly wage is $4.13 less than men's.
To encourage equal pay and change the income gap between genders, we perform internal equity reviews and are increasing our pay transparency. Being transparent about pay is a simple step companies can take to help close the pay gaps by gender and other underrepresented groups. While we know we can do more, we believe we're headed in the right direction.
Only 38% of HR leaders believe that building a more inclusive culture is an effective strategy for retaining and advancing women in tech roles.
A research report produced jointly by Accenture and Girls Who Code found that inclusive work cultures increase the likelihood of women advancing in their workplace. Aside from supporting women in their tech careers, we're actively working to make the day-to-day life at Muse inclusive, supportive, and collaborative. We try new things together, we learn together and we make mistakes together.
"We are always looking to learn more. We continue to be part of 50/30 initiative to boost our knowledge, tools, and strategies. This will help us adopt best practices to support a diverse, equitable team who can bring themselves as they are to do great work." – Tracy Brown, Muse HR Director
Male-founded companies receive more venture capital funding.
Since 2010, funding for women-founded companies has not improved. A 2020 PitchBook report shows that female founders made less than half of funding deals compared to males. Closing this gender gap is essential for driving innovation, and raising tech company shares. So, how do we close the gap? Research suggests that Mindfulness promotes greater creativity, a decrease in the fear of being judged, and enhances open-minded thinking: all critical elements for cultivating an inclusive work environment. Founder & CEO at EnrichHER, Roshawnna Novellus, suggests that mindfulness in the workplace, especially at the funding level, can help promote equal opportunities. Muse is #breakingthebias through our corporate wellness program by promoting mindfulness in the workplace.
Rather than talk about our women, hear from them directly. Here are the women of Muse on why they chose tech, what inspires them, and tips they have for future women in tech.
Women of Muse Share
Hear what women of Muse have to say about being in tech:
Ariel Garten, Co-Founder & Chief Evangelism Officer
"I started as a woman in tech, the CEO of a hardware start-up, over a decade ago. At that point, there were no incubators specifically for women, no funding sources. Now there is an incredible wealth of opportunities and support. It's never been a better time to be a woman in tech."
Nathaly Arraiz Matute, Technical Lead of Hardware
"When you are one of few women in any room you have this attention and responsibility, whether you want it or not, to speak for and make way for other women to join you. I really hope to be a part of this by speaking to any prospective engineer, sharing my experience and advice. But I hope to have an even bigger impact by being part of the decision-making and the policy changing to allow for greater opportunities for all."
Alyson Baker, Operations and Supply Chain Coordinator
"The women who work here are some of the most driven, kind, and talented people I've worked with. They push you to be your best and motivate you to learn and grow with new opportunities every day. These types of relationships are extremely beneficial in personal and professional development, and I sincerely believe that Muse is changing the lives of women in tech."
Naseem Bawa, General Counsel
"Working in tech gives me the opportunity to work with smart, creative, and passionate people while continuously learning in a fast-paced environment. I support women I work with by maintaining a "virtual open-door" and encouraging and supporting them to recognize their achievements and find their voice. Continue to make time for self-improvement and learning and make sure it's because you're interested in it or it serves a larger goal."
Madison Ramsay, Marketing Manager
"It's a shame that some women feel underqualified when they think about breaking into the tech world – or any new role for that matter. The truth is, rarely do companies find a "perfect" candidate who meets every qualification. So, apply and voice your worth! Your experience and perspective matter. Find tech opportunities that align with your interests, surround yourself with people who challenge & help you grow, and explore ways to leverage your strengths."
Mirkena Dollani, VP of Finance
"Working with a talented team fueled my motivation and creativity and helped me grow professionally. It is inspiring to be surrounded by an innovative team that discovers new opportunities every day, delivers great results on very aggressive goals, and supports the company's future growth and success. I am impressed by how the company embraces diversity and gender equality and proud to be part of this game-changing organization."
Cait Brown, Customer Care Associate
"Previous to Muse, I worked at a solar energy company as the only woman at the company. In my previous and current role, there was a significant product learning curve. Working with our Director of Software Engineering, she has always taken the time to educate and translate the complexity of a development issue in a way that I can understand and pass forward to enhance the customer experience."
Marcela Guerra, Director of Software Engineering
"I was lucky to have amazing colleagues and female role models when I started my career in tech. I'm extremely grateful and I try to give back as much as a can—being there for my teammates, supporting WIT groups, having coffee with people who want to understand what it's like to work in the tech industry. It's awesome that we have so many amazing groups out there empowering girls and women to join the tech industry. Tech is definitely for all of us!"
Jessica Nguyen, Manager of Customer Care
"There's a place for you in tech." That's what I wish I knew before joining a tech company. The thought of exploring a new field was filled with doubt, uncertainty, and fear. While the journey naturally contains those feelings, I am constantly reminded of the belonging I feel with the people who have forged the path ahead of me, the camaraderie I feel with those that are forging a path alongside me, and the experience I can help create for those that will come after me."
Nadia Kumentas, VP of Marketing
"The move into health-tech was an exciting way to have a larger positive impact on a wider audience. I've had a great deal of support through female and male mentorship and personally try to support in-kind whenever I can. Choosing to work at a company like Muse that puts diversity and equal opportunity at the forefront of their company ethos has also made my progression as a "female in tech" feel effortless."
Resources: